SRS-4 Full-duplex High-speed S-band Transceiver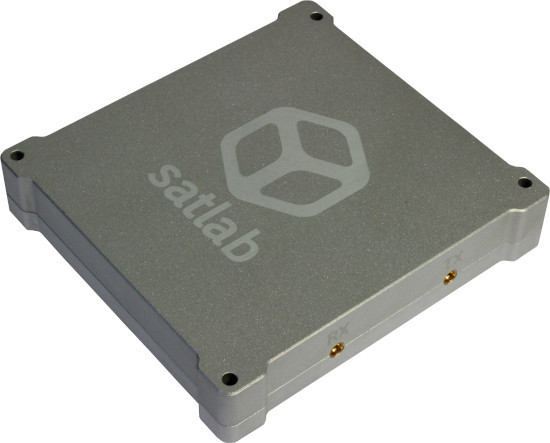 The Satlab SRS-4 is a full-duplex S-band transceiver designed for high-speed data transfer on micro- and nano-satellites.
The transceiver operates on the ITU space operations S-band frequencies with BPSK, QPSK and 8PSK modulation and CCSDS recommended channel coding, enabling integration with both independent and commercial ground station networks.
Features
Variable transmit symbol rate up to 5 MBd
BPSK, QPSK and 8PSK transmit modulation
BPSK and QPSK receive modulation up to 5 MBd
Run-time configurable convolutional and/or Reed-Solomon forward error correction
Adjustable output power up to 33 dBm with power monitoring and regulation
CAN-bus and RS-422 interfaces using CubeSat Space Protocol (CSP)
Ethernet interface using IP
AES-256-GCM link-layer encryption and authentication
PC/104 form factor aluminum enclosure
Delivered with support library for easy integration
Fully on-orbit software upgradable
Key Parameters
Parameter
Specification
Transmitter frequency
2200 to 2290 MHz
Transmitter modulation
BPSK/QPSK/8PSK, 100 kBd to 5 MBd
Transmitter power
20 to 33 dBm
Receiver frequency
2025 to 2110 MHz
Receiver modulation
BPSK/QPSK, 100 kBd to 5 MBd
Receiver sensitivity
-122 dBm (<1&percnt; PER, 100 kBd BPSK)
Input voltage
5.1 to 28.8 V
Typical power consumption
(6 V input, 20℃)
RX: 1.5 W (5 MBd)
RX+TX: 10.8 W (5 MBd, 33 dBm output)
Operating temperature
RX: -40℃ to +85℃
TX: -40℃ to +70℃
Dimensions
93.0 mm × 87.2 mm × 17.5 mm
Mass
253 g
Additional Resources
Customization
Custom hardware and software requests can often be accommodated. Please see the R&D section
Standard lead time: 8 weeks, subject to availability.
Request More Information